Report a Repair
Home > Report a Repair
Reactive Repairs Contract Update
The Association advertised recently on their website, social media platforms, local newspaper and various trade organisations seeking interested contractors and tradesmen in order to assist with the reactive repairs service delivery. We are pleased to advise that we have been able to bring on some locally based contractors. All tradesmen attending your property, will as usual, carry the appropriate ID and please contact us if you have any concerns in providing access.
This will be a great help in clearing the backlog that has accumulated due to various difficulties that the Association has experienced lately with single multi-trade contractors. We anticipate that in time we will be ble to return to achieving our target timescales as well as meeting customer expectations in the quality of work undertaken.
Thank you for your patience whilst we are navigating this difficult period.
Annual Gas Servicing Update
Read our latest article regarding an update to our annual gas servicing on our noticeboard section of our website.
Service update: Thursday, 12th May 2022
As further government restrictions have eased, we are delighted to advise that our pre and post inspections to tenants' homes has resumed. Our Maintenance staff continue to work a blended working pattern with home and office working and are available during office hours should you wish to contact a member of staff. As advised previously, although we have resumed our full repairs services, we are continuing to experience delays in completing non-emergency repairs due to a shortage in material supplies, which is out with the Association's control. We apologise for the inconvenience that this is causing, to those that are affected, and thank you for your ongoing patience.
Report a Non-Urgent Repair
Each year we deal with a wide range of repair requests. For non-urgent repairs, please contact our repairs team on 01475 807 001 during our office opening hours or by logging a repair request via our customer portal. Please only book non-urgent repairs via our tenant portal.
Call us on 01475 807001 Log Into My Oak Tree
*Non-emergency repairs or non-urgent repairs are things you can reasonably live with for a short time without immediate risk to our safety or health, for example, an internal door repair or plastering. Please report all non-emergency repairs using our online repairs reporting service. This will allow us to clearly prioritise all repairs effectively and speed up our response time.
Report an Out of Hours Emergency Repair
If you are an OTHA tenant and have an emergency repair when the association's office is closed, the emergency out of hours services can be contacted using the numbers below:
| Contractor | Contact Number | Covering |
| --- | --- | --- |
| The National Gas Emergency Service | 0800 111 999 | Gas Leaks |
| Avid Building Insurance | 01204 860 429 | Buildings Insurance |
| James Frew - Gas Sure | 01294 468 113 | All Trades including Gas Central Heating |
For Bunston Grove new builds only (Blackhill Drive / Cockrobin Drive / Smithston Road )
If you have an emergency out-with office hours, please contact CPM on 03451 400 100. An on-call operative will then assist you. If there is no answer then please leave a voicemail with address, a description of the fault and a contact telephone number for the operative to call back. .

For Maple Road Demolition - please call Central Demolition on 07775 690 982
For Strone Farm Development - please call Herongrange Security on 07473 174 600
Important Information
An emergency repair is defined as something which could cause danger to health, residents' safety or serious damage to property. This includes, for example, severe roof leaks; burst pipes; severe loss of water; blocked drains; blockage of your only toilet; complete loss of power or lighting; complete loss of heating in cold weather; dangerous electrical fault; & security following a break-in.
When attending an out of hours repair, our contractor will normally be instructed to make the repair safe only, with the full repair being carried out during normal opening hours.
Please only use the out of hours service for a genuine emergency repair. If you call an emergency contractor for a less serious repair, you may be charged all costs involved if we think you have acted unreasonably.
Alterations and Improvements
You don't have to let us know if you are redecorating, but if you want to make any alterations or improvements to your home you need to request permission.
This can include:
Removing or changing kitchen or bathroom units and fittings
Installing central heating or moving radiators
Putting up satellite dishes or television aerials
Putting up sheds, fencing, driveways or decking
We will only grant permission to any alterations or improvements that require a Building Warrant or Planning Permission, on the condition that the plans have been approved by the Council's Planning Department.
Right to compensation
If you are given permission to make alterations or improvements you might have the right to compensation at the end of your tenancy. Please contact us to find out if the work you have done is a "qualifying improvement".
If we have to refuse permission to carry out any alterations or improvements in your home, we will always let you know the reasons why you cannot carry out the work, for example if the work was likely to cause damage to the property or cause a nuisance to your neighbours.
If you go ahead and make an alteration/improvement without our permission or fail to adhere to any of the conditions attached to our permission we will exercise our right to re-instate our property to its previous condition and you will be responsible for the cost of the work.
If you would like more information on what improvements or alterations you can make to your home, or if you would like to request permission, please contact us.
Categories and Timescales
We have three categories of repair to help us prioritise our work. Each category has a target timescale.
Emergency Repairs
We attend emergency repairs and make them safe within 4 hours.
Urgent Repairs
We aim to complete urgent repairs within 2 working days.
Routine Repairs
We aim to complete routine repairs within 7 working days.
Chargeable Repairs
Chargeable Repairs
There are some repairs that you will have to pay for. We call these rechargeable repairs. Rechargeable repairs include:
Repairs to damage that has been caused deliberately by you, your relatives or visitors;
Callouts to fix TV signal problems if it is found that the fault is with your own equipment or leads;
Callouts to emergency services when you do not give access;
Repairs caused by a fault due to your fixtures, fittings, or installations;
When you repeatedly fail to give access after making an arrangement to do so;
Repairs to items installed by you which are your responsibility;
Gaining access to the property where you have lost your keys;
End of tenancy repairs where you fail to leave the property in an acceptable condition and to hand in 2 sets of keys.
If you are unsure if your repair falls into one of the above categories please contact us on 01475 807001.
Responsibilities
Our Responsibilities
We are responsible for maintaining the structure and outside of your home and for ensuring that it's fit to live in.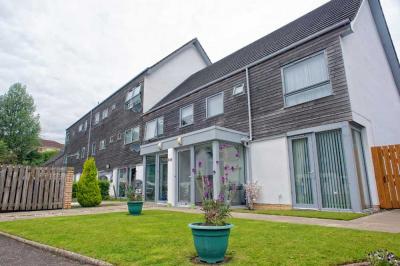 Properties that become vacant must reach a minimum standard before we re-let them. Before your tenancy starts we will inspect the house to make sure that it meets our minimum standard and carry out any work that is necessary. We will also inspect the common areas.
During your tenancy, we will carry out any necessary repairs to keep the property windproof, watertight and fit to live in.
Our responsibilities include:
Drains, gutters and external pipes (except where blocked due to negligence)

T

he roof
Outside walls, doors, window sills and frames
Internal walls, floors, ceilings, doors, and frames, staircases and landings (not including decoration)
Chimneys, stacks, flues (not including sweeping)
Pathways and steps
Plasterwork
Integral garages and stores
Boundary walls and fences
Heating systems, fires and services installed
Door entry system
Communal TV aerial systems
Extractor fans (not including cleaning)
Repairing any damage that we cause whilst carrying out repairs
Necessary repairs that are a result of fire, flood or natural disaster
Necessary repairs that are a result of acts of vandalism that have been reported to the police
We are not responsible for the following:
any fixtures, fittings or items installed by you
repairing damage caused by deliberate neglect, accident or negligence by you, anyone living with you, or visitors
We have a right to inspect your house or carry out repairs during reasonable times of the day. We will give you at least 24 hour's notice in writing. If you do not let us enter the house, or in an emergency, we may force entry.
Your Responsibilities
You are responsible for the following:
Reporting to us, as soon as possible, any damage to the house or common parts of the property
Taking reasonable care of the house, including minor repairs and keeping it reasonably clean
Internal decoration
Carrying out miscellaneous repairs, such as damage to glass or sinks; replacing lost or broken keys,
Replacing smoke-detector batteries
Notifying us of emergencies and allowing access
Taking reasonable care to ensure water pipes do not freeze, particularly if you are leaving the property unoccupied
Arranging home contents insurance for your belongings. We can give you details on some of the options that are available.
Asking permission before making any alterations
These lists are not exhaustive. Please phone us on 01475 807 001 and ask if you are uncertain.
Right to Repair
As a Tenant of OTHA, you have the right to have certain small repairs carried out within a given timescale. This is called the 'Right to Repair' and is part of the Housing (Scotland) Act 2001.
What does the Right to Repair cover?
The scheme covers certain repairs up to the value of £350.
The qualifying repairs are listed below:
Unsafe power or lighting sockets or electrical fittings
Loss or partial loss of electrical power, gas or water supply
A blocked flue to an open fire or boiler
External windows, doors or locks which are not secure
Loss or partial loss of space or water heating if no alternative heating is available
Toilets which do not flush (if there is no other toilet in the house)
Blocked or leaking foul drains, soil stacks or toilet pans (if there is no other toilet in the house)
Blocked sink, bath or basin
Significant leaking or flooding from a water or heating pipe, tank or cistern
Unsafe rotten timber flooring or stair treads
Unsafe access to a path or step
Loose or detached banisters or handrails
Broken mechanical extractor fan in a kitchen or bathroom, which has no external window, or door.
How does it work?
When you report a repair we will let you know whether it is a qualifying repair. Repair times depend on the type of repair and we will tell you the maximum time allowed to carry out the repair. For example, we have one working day to repair your toilet if it is not flushing but we have three working days to repair a loose banister.
If our usual contractor does not start the qualifying repair within the time limit set, you can tell another contractor from our approved contractor's list to carry out the repair. We will then pay you £15.00 compensation for the inconvenience. If you are in arrears of rent, we may offset the compensation against arrears.
Please do not contact a second contractor unless you have a case to do so as you may be recharged for the call out.
How do I find out more? If you wish to find out more about the Right to Repair scheme please contact us.