Update at Tuesday, 23rd March
Following recent Scottsh Government advice, non-essential works in people's homes will be able to commence from 26th April 2021.
Up until this time, we will only be able to continue an emergency repairs service only.
As of the 26th April 2021, our full repairs service will commence, although, all reported repairs may not be actioned immediately. This will be dependent on our contractor's resources. We will inform you as appropriate when you contact us.
We thank you for your on-going patience with this reduced service.
We will continue to update our website to advise when it will be possible to provide additional services as and when the restrictions are eased.
Update at Friday, 26 February
Following the First Minister's announcement on the 23rd February 2021, the Association would like to remind our customers that unfortunately we are only operating an emergency repairs service at the moment. This is in keeping with the current government guidelines.
For clarification, please see below what is considered an emergency repair: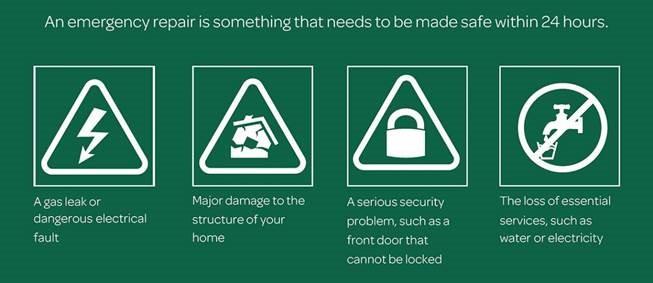 We have noted an increase of calls from our customers reporting non-emergency repairs and we are continuing to advise that these cannot be carried out at this time. We understand that this is frustrating, however, we cannot put our staff and contractors at risk.
We will continue to update our website to advise when it will be possible to provide additional services as and when the restrictions are eased.
Annual Gas Servicing
As previously advised the Association is continuing the annual gas service inspections to tenanted properties as these are deemed essential health and safety works. Please be assured that our contractors are carrying out their visits using the required PPE and we would like to thank those tenants who are providing access for these essential services to be carried out.
Where access is not being provided, the Association has resumed its forced access procedure and any costs associated with this will be recharged to the tenant.
Update as of Monday, 21st December
Following updated government advice, the Association will reduce their repairs service from 6th January 2021 to emergency repairs only. This will remain in place until government restrictions are eased.
For information, Greenock has been placed in Tier 4 meaning that home visits by contractors should only be for essential services and that tradespeople should only go into a house in a level 4 area to carry out or deliver essential works for example:
to carry out utility (electricity, gas, water, telephone, broadband) safety checks, repairs, maintenance and installations
to carry out repairs and maintenance that would otherwise threaten the household's health and safety
to deliver goods or shopping
to deliver, install or repair key household furniture and appliances such as washing machines, fridges and cookers
to support a home move, for example furniture removal
Please do not report any non-emergency repairs to us from the 6th January 2021. We will update our website to advise when our full repairs service is available again.
We are updating this section of our website where new information becomes available. Please follow us on Facebook and Twitter to keep updated.
The health and well-being of our community is important to Oak Tree Housing Association. We all need to continue to work together to minimise risk, and act in line with the current advice from the Scottish Government and National Health Service.
OTHA took the difficult decision to close our office to the public at 4.00pm on Friday 20 March 2020, until further notice. It is our intention now to continue to provide a service by staff working remotely and telephones being redirected to staff mobiles.
We are still keeping a register of tenants who have self-isolated because they feel unwell or because they are in a higher risk group. Please continue to let us know if you are self-isolating.
If you have a general enquiry, please continue to telephone us on 01475 807000. You will hear a recorded message and you will have the opportunity to leave a message. Please provide:
You name
Address
Contact telephone number
Details of your enquiry
Staff will be checking the messages regularly and your details will be passed to the appropriate member of staff and they will get in touch with you.
Staff working remotely may be contacting you over the course of the period of closure - they will be using mobile numbers that you may not recognise.
We will keep this news article and social media pages updated on a regular basis depending on advice received from the Scottish Government and the National Health Service.
Contact us by :
Portal https://my.oaktreeha.org.uk
Email info@oaktreeha.org.uk
Telephone 01475 807000
Facebook OakTreeHA
Twitter OakTreeHA
Contact form on website https://www.oaktreeha.org.uk/contact-us/
Latest Updates
Changes To Our Service
In response to Government guidelines following the COVID-19 outbreak, we have reviewed our services to customers and have had to make some difficult decisions.
We want to continue to offer a safe and effective service, but we also want to protect our residents and our staff members by minimising non-essential contact and travel.
Therefore, we have taken the decision to move to an emergency repairs service only if we have to enter your home.
Compliance checks, such as Gas Safety will continue in the usual way.
Works such as grass cutting and landscaping, will be completed in line with the latest Government guidelines. Please note visits to carry out these works may be reduced due to staff resources.
Our staff will no longer be making routine appointments and visits to your homes.
We understand this is disappointing for you and may mean that some non-essential repairs will take much longer to complete than in ordinary circumstances.
More information about what has changed can be found below.
We will of course, continue to monitor the situation daily and review accordingly. Please keep checking our website, facebook or twitter for updates. We also use a text messaging service so please make sure we have the correct number for you so we can keep in touch.
(NEW) Update to Common Services
The Association has received a number of enquiries from residents regarding the possibility of refunds for services that have not been carried out due to the government lockdown.
The team at Oak Tree Housing Association knows how frustrating it has been for customers who have had to stay safe at home during the COVID-19 pandemic, and that unclean windows, overgrown gardens, long grass, minimal staff presence etc will not be helping with your wellbeing.
We are sorry about this.
The safety of our residents and staff is always paramount, and this has never been more true than in response to this pandemic.
To safeguard the safety of our customers and staff at this time, Oak Tree Housing Association, like all housing associations across Scotland, has had to suspend grass-cutting, window cleaning, landscaping, implement home working etc as part of the lockdown procedures.
We needed to reduce unnecessary contact at our developments and general traffic to keep the potential for infection to a minimum. However, we continued to deliver emergency-only repairs both within communal areas and into customers' homes. Furthermore, the way in which we deliver these essential services has had to change to comply with the new advice and guidance.
Please rest assured that throughout the duration we have and will continue to fulfil all necessary health and safety and approved compliance checks that are allowed by the guidance and we are available to respond to any emergencies and hazardous areas that need immediate attention.
Our grounds maintenance service has resumed albeit on a restricted basis, in line with relevant guidance. We appreciate that as this is the start of the growing season, garden areas have become untidy; we will initially prioritise cutting grass and any overhanging foliage alongside paths and entrances. Subsequent decisions to increase ground maintenance activity will be underpinned by the safety of customers, and the wellbeing of staff and the contractors carrying out the service.
As we start easing out of lockdown, we are looking at the need to commission extra services to rectify work not carried out because of the emergency, and how services may need to be delivered differently going forward. At this stage, we are anticipating potential cost increases, and we will monitor these costs closely.
We promise our customers that we will
Deliver the best and most appropriate service that we can under the current circumstances while ensuring that our customers, staff, and contractors are safe;
Make a fair and honest assessment of the services that we have delivered taking into account the agreed level of services and balancing these against the financial impact of shielding measures and actions put in place to protect our customers, staff, and contractors.
Keep our customers informed of all of the safeguarding advice and guidance that we have implemented to reduce the harm of the Covid-19 virus across our developments.
Back Court and Open Space Landscaping
Added on: Tuesday, 2nd June 2020.
Our contractor, John O'Conner, has advised that they are still operating on about 50% staff capacity due to restricting one person to a van, however, they are planning to phase in van sharing over the next two weeks. They plan to bring back their furloughed staff next week and will also be recruiting seasonal workers. The social distancing measures remain in place and therefore this process will take longer than normal to implement.
Our contractor expects that some of their teams will be up to capacity by Monday 15th June 2020 and the backcourts will be maintained regularly thereafter. Please bear in mind that it will take a few weeks to get the backcourts back up to their normal standard and this will be fast-tracked as much as possible by staff working overtime.
In the meantime, open landscaping maintenance is continuing and weed spraying is being attended to on an area by area basis.
The Association appreciates that residents will be keen to see the backcourts tidied up as soon as possible, however, this will take time to ensure the safety of both the residents and the contractor.
Repairs
Following the latest update from the Scottish Government there are no further changes to our Repair Service. Non-emergency works recommenced on 26th April 2021 however we are still unable to send OTHA staff to pre-inspect internal repairs. This is likely to be the case until the tier restrictions reach tier 0. We will inspect external repairs where required.
We would also advise that, while we have recommenced ordering all emergency and non-emergency works our contractors are advising there are mounting problems in obtaining some materials and this may affect our normal timescales for delivering some repairs.
We thank you for your on-going patience and understanding on the ongoing impact with our repairs service to you.
We will continue to update our website to advise when it will be possible to provide additional services as and when the restrictions are eased.
Estate Management Inspections
Unfortunately, due to the office being closed and staff working from home, our regular inspections of common areas and playparks are not taking place. We will resume inspections as soon as possible when the office re-opens. Due to the social distancing rules, the use of common areas and playparks is restricted at present in any case, but if you have any concerns about the condition of a common area or playpark, please report it to us by leaving a message with the office on 807000. If it is an emergency we will make it safe.
Gas Safety
Updated Thursday, 21st January 2021:
Please note that the Association will be re-instating their forced access procedure where tenants are failing to provide access for their annual gas safety inspection. The procedure had been halted in view of the pandemic, however, it is now critical that we gain access to those properties with outstanding services.
The Association will be writing to those tenants and making appointments. We would be grateful for access in order to satisfy our statutory obligations. Please contact the office if you wish to re-arrange your appointment.
Any costs associated with forcing access will be recharged to the tenant.
By law, we must carry out an annual service and safety check of all gas central heating appliances in your home. Gas safety checks are continuing as normal.
Our registered Gas Safe engineers may need access into your home for these checks, which take no longer than an hour. You do not need to have direct contact with anyone visiting your property to complete these checks.
Please follow sensible precautions to keep yourself safe when our staff are visiting your property, as outlined in public health guidance found here www.gov.uk/coronavirus
If you are due your annual gas safety check and are self-isolating or are a shielded vulnerable patient, please let us know so we can understand how best to protect you and your family by telephoning us on 807000 or emailing info@oaktreeha.org.uk
Paying Your Rent
We recognise that we need to be flexible in response to unexpected events and will make reasonable adjustments based on individual circumstances.
While we will continue to collect rent and service charges as we normally do, it is vitally important that you let us know as soon as possible if you are having difficulty paying or are worried about meeting future payments. We want to work with you, so please contact us on 01475 807000 and we will call you back as soon as we can. You can also email us at info@oaktreeha.org.uk.
You can check your account and pay rent on-line on our MyOakTree Portal. If you are not already registered you can click on the Tenant Login at the top right of the website home page and register. You will need an email address, your tenant number, year of birth and postcode. If you need help, please let us know and we can register for you.
If you are unable to attend your benefit appointments, please let the Department for Work and Pensions know as soon as possible by reporting it on your online Universal Credit account.
Should you find yourself with no income due to the impact of coronavirus, if you do not already claim benefits, you may be eligible to apply for Universal Credit to help you pay your rent and service charge. You can find out more about Universal Credit and eligibility on the Money Advice Service website. Our Housing Services team are also able to help and we can refer you to local organisations that can help, such as the Financial Fitness team.
There is also further information for people affected by COVID-19, including information about eligibility for Statutory Sick Pay on the Government website.
Allocations
We were delighted to be able to restart letting properties again in July 2020. Changes to the way we carry out our letting process has changed however. We are not carrying out home visits but will contact you by telephone to discuss your circumstances and obtain verification of your circumstances. Any viewings or sign up appointments will take place with PPE and social distancing measures in place. It is very important that we have an up-to-date telephone number and email address for you. More information on how to apply and the allocations process is available via www.inverclydechr.org.uk, telephone 01475 807011 or email info@inverclydechr.org.uk.
Anti-Social Behaviour
There is no doubt that we are all spending extended in our homes. You might live alone or with family. The knock-on effect of this may mean that you are more aware of noise levels from your neighbours, which may include general household noise and children playing.
Please try to be tolerant of the noise levels you might experience during this time, and please consider the impact your household noise levels and behaviour may have on your neighbours.
If you are experiencing repeated issues of antisocial behaviour you can report it to us by contacting us by telephone or email.
Please call 101 for the Police or Anti-Social Behaviour Helpline, which is run by Inverclyde Council on 0800 01 317 01 or by e-mail at ASBINT@inverclyde.gov.uk
If you are threatened with violence or are concerned for the safety of yourself or others, please call the police immediately on 999.
We will continue to manage existing antisocial behaviour cases, through your preferred method of communication, providing regular updates, signposting you to helpful support networks and discussing further action where appropriate.
Isolation and Domestic Abuse
The current isolation measures that have been put in place by the Government are likely to mean that you will be spending a lot of time at home and this may mean a pressured situation could get worse.
If you are in immediate danger, please call 999 and ask for the police.
If you are not in immediate danger but would like to talk to someone about something you or someone you know is experiencing, please contact Inverclyde Womens Aid on 01475 888505.
Taking Care
It's understandable that not only our residents, but communities everywhere will be worried about how their lives are going to be affected over the coming months.
The Government has provided guidance on social distancing for everyone in the UK and how we can all work together to protect older people and vulnerable adults. This includes steps you can take to stay connected with family and friends during this time:
Draw on support you might have through your friends, family and other networks. Try to stay in touch with those around you over the phone, by post, or online. Let people know how you would like to stay in touch and build that into your routine. This is also important in looking after your mental wellbeing and you may find it helpful to talk to them about how you are feeling.
Remember it is okay to share your concerns with others you trust and in doing so you may end up providing support to them too.
The Mental Health Foundation has useful information on how to look after your mental health during the virus outbreak and it can be found on their dedicated website page.
If you are feeling overwhelmed, try talking to your family and friends and sharing how you feel. If you are worried that you may need more help, the following support is available:
Free 24-hour listening support
Samaritans is available to listen at any time of the day or night. You can talk to them about anything that's troubling you, no matter how difficult.
Call free on 116 123 or visit the Samaritans website.
Shout offers confidential 24/7 crisis text support for times when you need immediate assistance.
Text "SHOUT" to 85258 or visit Shout Crisis Text Line.
In a life-threatening emergency, you should dial 999.