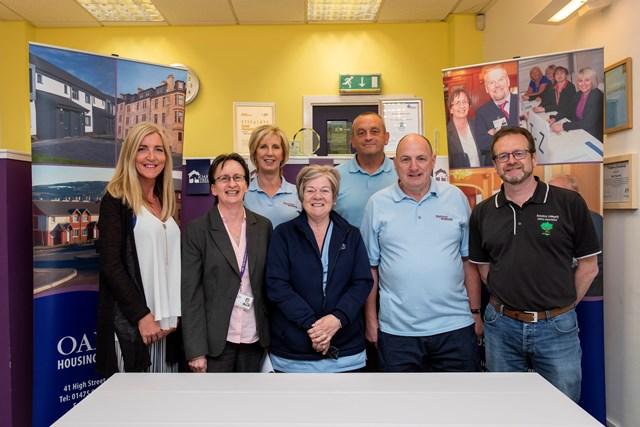 photo courtesy of the Greenock Telegraph
Eleven local projects including health, wellbeing and youth initiatives, have been successful with their applications to Oak Tree Housing Association's £35,000 Our Community Our Future fund, aimed at communities across Branchton, Bow Farm, Fancy Farm, Grieve Road and Pennyfern.
Successful applicants were determined via a participatory budgeting approach, where decisions about how grant money is distributed were made by the people who live or work in the area and will benefit from these projects. Local residents cast their votes online and by post, with a ballot box bonus vote at an Our Community Our Future Fun Day at Inverclyde Academy, where each project had a platform to pitch their ideas directly to the community.
Projects that came out on top are:
| | |
| --- | --- |
| Lady Alice Homework Club | £750 |
| Inverclyde Heart Start | £1200 |
| Branchton Young Drivers | £2000 |
| Youth Club to Parliament | £1000 |
| Little Trailblazers | £5000 |
| Investment for Young Dancers | £2000 |
| Community Transport | £5000 |
| Branchton Ocean Youth Trust | £5000 |
| Mindfulness Matters | £5000 |
| Trauma Informed | £5000 |
| Credit Union | £5,000 |
"Congratulations to all our successful applicants, who have received grants to progress their inspiring initiatives," said Nick Jardine, Chief Executive Officer, Oak Tree Housing Association.
"It has been great to see the community respond so positively to this opportunity and get directly involved in the decision-making process, choosing what's most important to them and helping these fantastic ideas come alive in the weeks and months ahead."
The Oak Tree HA programme has been backed by a grant from the Scottish Government's Community Choices Fund. Oak Tree brought in local community development agency, CVS Inverclyde, to assist with its programme delivery.
Locals attending the Our Community Our Future Family Fun Day and casting a vote were entered into a free prize draw for a 49 inch smart TV, which was won by Kerri Baxter of Gateside Gardens.