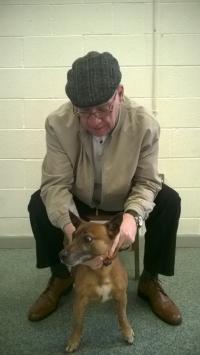 Oak Tree Housing Association teamed up with the Dogs Trust to host a roadshow for dog owners, offering free basic health checks and advice, as well as microchipping and nail clipping, at Branchton Community Centre.
"We encouraged our dog owning tenants to join the wider community at this drop in event, as we teamed up with the Dogs Trust to help promote responsible dog ownership," said Nick Jardine, Chief Executive Officer, Oak Tree Housing Association.
"On top of the free heath checks and microchipping service with the Dogs Trust Veterinary Nurse, there were giveaways and materials offering information on a wide range of topics from neutering and fireworks, to training DVDs and how to be safe around dogs. We were delighted to welcome how many? (just roughly eg, more than 30/40?) dog owners, along with their trusted friends, to the roadshow."
Founded in 1891, Dogs Trust is the largest dog welfare charity in the UK. Running the roadshows with housing associations, local authorities and other stakeholders across Scotland, its team aim to deliver general awareness campaigns and address dog-related problems.
At the roadshow, the Dogs Trust promoted all aspects of responsible dog ownership including:
• The change in the law regarding compulsory microchipping
• The legal requirement of keeping the microchip owner information up to date
• The legal requirement for collar and tag
• The legal requirement to pick up after your dog
• The importance of proper training/socialisation to prevent anti-social behaviour
• How to be safe around dogs
• The importance of the five freedoms - freedom from hunger and thirst; discomfort; pain, injury
or disease; fear and distress; and freedom to express normal behaviour.
The Dogs Trust e team also provided health and wellbeing advice, including promoting the importance of:
• Taking out pet insurance
• Registering with a vet
• Neutering
• Maintaining a healthy weight
• Recognising signs of ill health
• Regular flea/worm treatment
• Annual vaccinations
• Regular dental checks