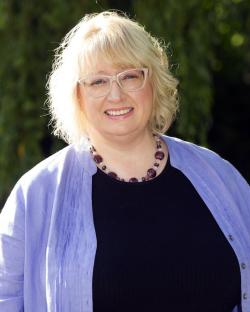 Jackie McKelvie, Vice Chairperson of Oak Tree Housing Association, has been awarded an MBE in recognition of her voluntary service to social housing in Inverclyde.
Jackie joined the organisation as a volunteer in 1986, when it was known as James Watt Housing Association. It became Oak Tree Housing Association (OTHA) in 2001. She served in the position of Chairperson for five years until March 2018 and also represents OTHA on the board of Cloch Housing Association, due to the constitutional relationship that exists between the two organisations.
In her role with OTHA, her aim has been to support the local community in achieving more appropriate, high quality and affordable rented housing, initially in the West Station and Town Centre areas of Greenock. Today, the organisation serves communities throughout Inverclyde.
As a developing organisation, she has helped ensure that OTHA remains performance orientated, with service delivery a priority along with the involvement of tenants and residents in decision-making processes.
"This MBE Honour is such a fitting tribute for Jackie's tireless work over the years," said Oak Tree Housing Association Chief Executive, Nick Jardine. "Through her sheer determination, she has been instrumental in ensuring our continuation of robust refurbishment programmes and that all new build developments meet the requirements of local tenants, residents, and communities.
"Jackie was also keen that we provided special needs housing facilities to help people with disabilities live a healthy and safe life within their own community, rather than experience extended periods in hospital care. We are proud to have achieved this in partnership with others. She also oversaw the OTHA build of a much-needed women's aid refuge in Greenock.
"That same drive of Jackie's saw us embark together on our Investors in People journey, over a number of years first gaining the bronze, then silver awards, before achieving gold status in 2016. We thank Jackie for her great contribution to Oak Tree on so many different levels and congratulate her on this great Honour."
Born in Glasgow, Jackie has lived in Inverclyde for 39 years, now in Gourock where she is currently chair of the local Community Council. Husband Clarke is a ship's master based at the Great Harbour, Greenock. The couple have a son, Laurie, who will complete his Master's degree in sustainable construction engineering this year. As an honours sociology graduate herself, Jackie has always worked in the public sector, starting in the civil service for almost 20 years and, more recently, within the justice environment, as part of the executive team of the Scottish Police Authority.
Commenting on her MBE, Jackie said: "I am thrilled, honoured and humbled in equal measure by this recognition. It allows me to pay tribute to my fellow management board members on both Oak Tree and Cloch Housing Associations, as well as our committed professional staff teams.
"Community-based associations have delivered immeasurable social benefits across Inverclyde, working closely with partners to do so. It has been a valuable personal journey for me and I thank my family for their support along the way. Most of all I thank my husband Clarke, who many a night sat babysitting our son, looking at the clock, wondering 'where the heck is she now?'
When Jackie became a member of the then James Watt Housing Association in 1986, the couple were living in their first flat in the Greenock West Station. Their flat was one of many designated Below Tolerable Standard. Jackie wanted to be part of the decision-making body to decide how the housing association grant would be spent to improve the homes.
Thirty-three years later, Jackie is still with Oak Tree Housing Association and has learned a whole range of new things – finance, housing management, human resources, technical and environmental aspects of housing development – benefitting from varied training and development opportunities.
Jackie said: "The social housing movement wants everyone to learn – it one of its key strengths. Being involved in the movement is to be part of a wider community of like-minded volunteers and talented professional officers – all pulling in the one direction – to create and sustain affordable housing and integrated communities. Having a roof over your head is a fundamental human right – and there is still much work to be done.
"There have been, and there will continue to be, many challenges, as small associations compete for funding along with huge, national organisations, continuing to support tenants to cope with, amongst other things, significant benefit changes that pose a real threat to both tenants and associations alike. Keeping the community-based housing model alive and well is of critical importance – because it works – and we can prove it!"
As Chairperson of OTHA, Jackie was a key spokesperson for the organisation, providing leadership to the Management Committee who she represented in the day-to-day relationships with senior staff. Today, she remains on the Committee of OTHA as Vice Chairperson and continues to be a positive influence in its management.